TASA- Thunderbolt Advanced Scholar Academy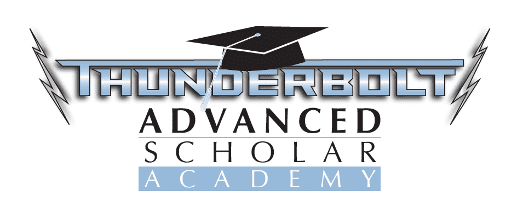 What is the Mica Mountain High School Thunderbolt Advanced Scholar Academy?
A program embedded within the Mica Mountain High School framework focused on providing our academically advanced and motivated students with opportunities to complete rigorous coursework, receive systemic support services, and benefit from individualized college readiness guidance. Upon graduation, successful TASA Scholars may be qualified for entrance to highly selective universities.
What are the qualifications to become a Thunderbolt Advanced Scholar?
TASA Scholars are selected based on the following criteria:
The student has no more than 2 middle schools (7th &8th) grades of B,
All other grades should be A
And
A grade of B or better in Algebra and/or Geometry in middle school
Or
The student must have grades of A in both 7th and 8th-grade math.
And
Enrolled in Honors English 8 (if offered at student's school)
Or
*** Earned a grade of highly proficient (2600 or higher) on the AZ Merit ELA exam
And
2 Teacher Recommendations (Recommendations must be received by the School Choice Deadline)
What are the benefits of being a Thunderbolt Advanced Scholar?
• Students in the Thunderbolt Advanced Scholar Academy will be assigned to the Mica Mountain TASA Counselor.
• Individualized assistance with all aspects of college and career planning throughout all four years at Mica Mountain High School.
• Personalized academic plan to facilitate readiness for highly selective colleges.
•Completion of high rigor coursework aimed to prepare students for highly selective college readiness.
•Purposeful parent meetings related to increasing student readiness and highly selective college competitiveness throughout the school year.
•Direct communication and individualized information in relation to highly selective college admissions, scholarship, and college entrance testing.
•Parents will receive newsletters regarding highly selective colleges and career exploration opportunities.
Frequently Asked Questions
Who is this program for?
TASA is designed to assist students who have a goal of attending a selective post-secondary program, programs like military academies, honors colleges, selective and highly selective colleges, and universities, basically, any institution that has stringent admissions requirements. TASA students are highly motivated and take courses that go above and beyond regular high school graduation requirements.
What is the program like for students?
TASA students complete a rigorous course load consisting of several honors and advanced placement AP (college level) courses beginning with one advanced placement courses during their freshman year. Many TASA students participate in extracurricular activities like sports and fine arts. Many also complete 3 or more years of foreign language as required by many selective colleges.
Please review the suggested TASA Flowchart for Core Courses
What are some of the features of the program?
Successful completion of this program will provide students with a foundation that will facilitate their readiness to compete for admissions to selective and highly selective colleges, universities, or military academies. The TASA counselor will provide students with individualized assistance for college and career planning. There will be a parent informational meeting each semester and you will receive monthly college preparatory newsletters and frequent updates on scholarships, summer pre-college programs, and other activities that will help students to achieve their post-secondary goals.
Are there other options at Mica Mountain High School for rigor?
Yes, the TASA program is ideal for students who are highly motivated and whose goal is to apply to selective post-secondary programs. However, for qualified students who choose not to participate because they do not have a goal of attending a selective college, please know that all MMHS students are still able to take as many honors and AP courses as they choose at our school.
Dainah L. Graham, M.S., M.Ed.
TASA Counselor
grahamd@vailschooldistrict.org
(520) 879-3832